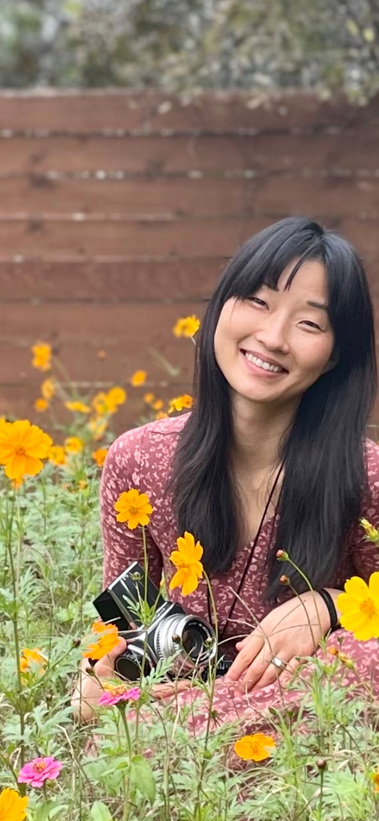 Hi there,

Thanks for stopping by :)!
I am a Photographer and Retoucher, based in Denton, TX. I'm originally from the Philadelphia suburbs and called Philly proper my home for ten years. Since then, I've bounced around to Brooklyn, Dallas, Austin, and now Denton.
When I'm not shooting or editing you're likely to find me in the garden, working on a craft, or trying a new recipe in the kitchen.
Home is with my husband Jason, our sweet son Jay Yoon, our whippet Puppy, and our orange tabby cat Peach.
I began my photography career like most do, by documenting everything and anything around me. Then, I had the wonderful opportunity to photograph for the renowned ballet conservatory, The Rock School for Dance Education. I documented in the dance studios, photographed on-stage performances and shot marketing and E-Commerce photos for six years.
When I moved to Brooklyn, I took every chance I could to further my skills and experience in commercial photography. I freelanced with multiple clients and companies, and I had opportunities to photograph, prep images for release/retouch, assist, style, and produce on shoots with companies like Anthropologie, Urban Outfitters, Warby Parker, Ralph Lauren, 3.1 Phillip Lim, MZ Wallace, Komar Brands, Victoria's Secret and so many more! I also had wonderful opportunities to study under and work with super talented commercial photographers, producers, and stylists all around NYC.
My husband and I abruptly had to move from NY to Dallas to take care of some family matters. During our time in Dallas, I had the chance to work in the world of wholesale and retail textiles at Loloi Rugs. I really appreciated the chance to work with Loloi's design collaborators such as Magnolia Home, Rifle Paper Co., Justina Blakeney, and ED Ellen Degeneres. I further honed my skills in shooting, retouching and e-commerce. I learned a lot about the world of rugs and textiles and had more opportunities to work on on-location interior shoots as well as in the studio.
When I moved to Austin, I had the unique opportunity to photograph jewelry for the renowned body modification brand Diablo Organics/Jimmy Buddha Designs. I knew nothing of the niche world of body modification when I began, but I reveled at the chance to learn about the world-wide community and to shoot and edit such unique metals, stones and one-of-a-kind pieces.
I am so grateful for my time collaborating with such talented individuals and teams over the years! I have adored working with other creatives of all backgrounds, and I am so thankful for all of my amazing employers, mentors, co-creators, and collaborators!
I look forward to the next chapter in my creative career, and to more learning, growing and sharing!